Please take a look at the products members have for sale.
-------------------------

NJBA President's Message October-November, 2013
Since the meteoric rise in beekeeping in the state during the last seven years, primarily due to the intense media attention afforded the honey bee and 'Colony Collapse Disorder', conflicts between New Jersey beekeepers, neighbors and municipalities have increased. Unfortunately, Alpine, Closter and Fair Haven have banned beekeeping. Allendale reversed a ban on beekeeping, due to three year's work by Dianne DiBlasi, and now requires a permit with restrictions. South Plainfield also enacted an ordinance restricting beekeeping and requiring a permit. Lower Township enacted an ordinance restricting beekeeping on small lots. In addition, there are other complaints involving beekeeping before land use boards or other municipal entities with outcomes still pending.
At the end of May, I was contacted by an aide to Assemblyman Ronald S. Dancer. He was interested in talking to me about bee legislation. After telephone discussions, a conference call with the aide and an NJBA member who is an attorney and has extensive experience in land use issues and State Apiarist Tim Schuler, we set up a meeting in Trenton. As a result, we have two bills in the NJ Assembly Agriculture and Natural Resources Committee that have the potential to protect beekeepers in the state. Bill A4262 would establish the State's exclusive authority with regard to regulation of apiary activities. Bill A4261 would extend the Right to Farm Act protections to commercial beekeepers. (You can click on the link for the full text of the bills or find them inside the newsletter.) Primary sponsors for these bills are Assemblymen Ronald S. Dancer, Parker Space, Nelson T. Albano, Bob Andrzejczak with Assemblywoman Alison Littell McHose as Co-Sponsor. Identical bills, S2990 and S2991, are being sponsored by state Senator Jeff Van Drew and has been assigned to the Senate Economic Growth Committee.
These bills will have a long path to follow if they are able to actually become law. In the coming months, the Association will be working on moving these bills along the lengthy path to becoming law. At this point in time, I urge all NJBA members to write to the sponsors of the bills, thanking them for their sponsorship and voicing support for these bills. I also suggest that you write to the other members of the Assembly Agriculture and Natural Resources Committee stating your support for these bills.
I also strongly encourage all members to follow the "Guidelines for Keeping Bees in Populated Areas". It is imperative that you manage your bees so they do not become a nuisance to your neighbor. This includes proper placement of hives from property lines and preventing flight paths from crossing sidewalks, playgrounds or other public areas. Provide a water source for your bees. Unless you are on good terms with your neighbors, your bees could become collateral damage in a dispute at best. At worst, you could end up getting beekeeping banned in your town.
On October 19, 2013, we have a full house for the state meeting at the EcoComplex in Bordentown. This meeting is hosted by the Central Jersey branch and will feature Dr. Thomas D. Seeley. We'll also be voting on a change to our Constitution and Bylaws that would allow absentee voting for Association officers at the Annual Winter Meeting. To that end, we need an Election Committee to solicit nominations for president, three vice presidents, recording secretary, corresponding secretary and treasurer for the winter meeting.
The executive board is working on the 2014 meeting schedule. The annual meeting is scheduled for February 8, 2014. We hope to have dates and more details on the spring meeting, the annual picnic and auction and the fall meeting in the near future. I hope that everyone is setting aside three one-pound glass jars of honey to enter the Annual Honey Show this winter. Details on the show will be available soon.
Janet A. Katz, NJBA President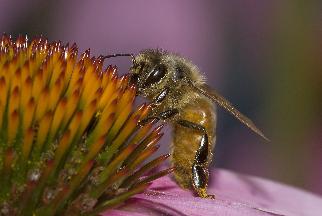 The first place winner in the Photography Division of the 2009 Annual Honey Show was this closeup of a worker on an Echinacea flower. (Photo by Susan E. Ellis)
Having trouble locating what you're trying to find?

Click here, to search our entire web site.


Have a swarm of honey bees on your property?
Want to find a beekeeper to come and remove them?
To find a NJ beekeeper interested in collecting swarms in your county, click here.
Don't know if they're actually honey bee? Click here for an informational brochure.