For the first time, it looks like we'll have a beekeeper on the State Board of Agriculture. Angelo Trapani, of Trapper's Honey LLC, the NJBA First Vice President and Newsletter Editor, was nominated for a position on the Board. His nomination will be voted upon at the annual State Agricultural Convention in February and then he would be appointed by the Governor with approval of the State Senate. If all goes according to plan, Angelo would start in July, 2015. Having a beekeeper on the eight-member State Board of Agriculture can only be a positive for the beekeeping industry in New Jersey. Congratulations Angelo!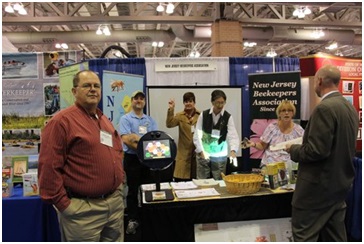 Tim Schuler, Geff Vitale, Jackie Somers, Janet Katz and Patti Schuler manning the NJBA booth at the NJ League of Municipalities conference in Atlantic City as an attendee stop by to learn about beekeeping.
(Photo by Joe Alvarez)

In order to continue championing our beekeeping legislation (S1975 to establish exclusive State regulatory authority over apiary activities and S1329 to extend Right to Farm protections to commercial beekeepers), the Association participated again in the annual New Jersey League of Municipalities (NJLOM) Convention which was held on November 18th to the 20th. We manned a booth in exhibit hall and had the opportunity to discuss beekeeping and beekeeping issues with a host of municipal officials. A Village Trustee in South Orange Village wants information about placing honey bees in a community garden. A Riverdale Councilman would like to have honey bees on an historic property there. Speakers were sought by Township of Berkeley Commissioner.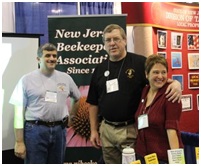 There were far fewer problems related to beekeeping brought to our attention this year than last, although one Councilwoman did alert us to a problem between neighbors in her town, which we will try and assist with. Best of all, both the Englewood City Manager and an Englewood attorney stopped by
Wednesday volunteers at our NJLOM booth Dr. Sal Bernardo, Jeff Burd and Landi Simone. (Photo by Joe Alvarez)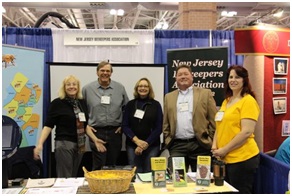 to report that Englewood (Bergen County) has had the first reading of an ordinance to overturn the ban on beekeeping in that town. The City Manager was alerted to the fact that Englewood had a ban at the 2013
Lou Naylor, Gerald Kiyak, Diane Randazzo, John Zingis and Stephanie Fowle were Thursday's NJLOM beekeeping ambassadors.
(Photo by Joe Alvarez)

NJLOM and NJBA Northeast branch member and Englewood Health Officer Jim Fedorko, have worked to get the ban lifted. Great work Jim!
I would like to thank Corresponding Secretary Joe Alvarez for organizing our participation in the NJLOM Convention and Treasurer Curtis Crowell for paying the bills. Thanks also to the following NJBA members for taking the time out of their schedules to man our booth and promote beekeeping throughout the state: Mid State's Lou Naylor and Jeff Burd; Jersey Cape's Mike McGurk, Jackie Somers, Diane Randazzo and Stephanie Fowle; Central Jersey's Geff Vitale, John Zingis and Dr. Sal Bernardo; Essex' Landi Simone; Morris-Somerset's Phill Sheehy and our State Apiarist Tim Schuler and his wife Patti. Thanks also to Jersey Cape's Bill Eisele for helping with the setup of the booth.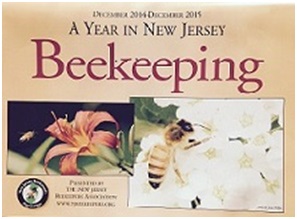 The 2015 edition of the Association's "A Year in New Jersey Beekeeping" has been printed and copies have been shipped to each of the ten branches. Copies are available from your branch at a cost of $10 each. Alternatively, you can order the calendar online (
http://www.njbeekeepers.org/store/
) for $13.50, and have it mailed directly to you. Congratulations to the 40 people who had a photograph selected to appear in this year's calendar. A special thank you to Northwest's Rebecca Wunderlich who, once again, did a spectacular job on this year's calendar design and to Northwest's David Leary of Paper Strategies for the printing job. Keep your camera ready during the coming 10 months to capture beekeeping photographs for next year's calendar.
Coming up before you know it will be our Annual Honey Show and our Annual Winter Meeting. Complete rules and an entry form are available in this newsletter. They are also available on our website:
www.njbeekeepers.org/AnnualHoneyShow.htm
along with some hints for preparing entries from Honey Show Chair Landi Simone. Landi is working on updating the judging sheets, finding a judge, securing the Annex at the State House in Trenton for judging the entries and displaying them for the week leading up to our Annual Winter Meeting. Complete details will be mailed to all members we have email addresses for. If you have any questions about the show, please contact Landi at
landi.s@verizon.net
.
Our Annual Winter Meeting will be held on Saturday, February 14th. Our featured speaker will be Maine State Apiarist Tony Jadczak (originally from New Jersey!). Tony has been the Maine State Apiarist since 1983. Tony's responsibilities include licensing of resident beekeepers and permitting the entry of migratory bees from other states into Maine; inspection of resident and migratory honey bee colonies for regulated diseases and parasites; surveying commercial bee keeping operations for Africanized honey bee; and educating beekeepers, growers, and the general public about bee keeping techniques and the value of honeybees to Maine agriculture. Prior to 1983, Tony worked in Apiculture in the Department of Entomology at Rutgers University in New Brunswick, NJ.
Finally, I'd like to encourage all branch members to volunteer at the branch level. This is the time of year that all of the branches are casting about for folks to serve as officers. New beekeepers shouldn't have any reservations about volunteering as an officer as these positions require more organizational skills than beekeeping skills. In fact, the less you know about beekeeping, the better equipped you are to craft programs that will help the beginners in your branch. Give back to your branch and volunteer your time!
Happy holidays to everyone and my wishes for a good 2015 and success in beekeeping.