2013 Annual Honey Show Winners!
Please take a look at the products members have for sale.
-------------------------

NJBA President's Message February, 2013
Thank you to all the members who turned out to vote in our annual elections on February 23rd in Hamilton. I am grateful for the support that everyone showed me at the meeting and in emails and phone calls prior to the meeting. As Tim Schuler, our state bee inspector, stressed several times during his report to attendees, working together a few beekeepers can accomplish alot. And we have a lot to accomplish!
I'll be looking at existing committees and contacting existing state executive board members and chair people in the next two weeks to identify and prioritize the issues before the state organization. Most important right now is setting the calendar of state meetings for the rest of the year. The Central Jersey branch has stepped up and offered to hold the fall meeting on October 19, 2013 at the Eco-Complex in Bordentown with Tom Seeley from Cornell as the featured speaker. We are still looking for a branch to sponsor the spring meeting, and need to finalize the date and location for the annual picnic and auction.
For those who missed the Annual Meeting on the 23rd, we all learned how to register to put the "Jersey Fresh" brand label on our honey, got an update from Tim Schuler that included the disturbing news that samples of fresh pollen collected from New Jersey hives contained 20 different types of pesticides. A representative of Fish and Game schooled us on black bear habits and best fence construction parameters. Black bears have now been sighted in all 21 counties in NJ. There was also an informative, poised and entertaining presentation by 2013 American Beekeeping Federation Honey Princess Emily Campbell.
As soon as I can identify and prioritize the issues the state association is currently facing, I'll be in touch with everyone, and I mean everyone to begin asking for help in moving our organization forward. If you have issues and ideas for their solution, please contact me at president@njbeeekeepers.org.
Janet A. Katz, NJBA President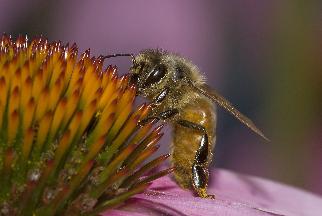 The first place winner in the Photography Division of the 2009 Annual Honey Show was this closeup of a worker on an Echinacea flower. (Photo by Susan E. Ellis)